Fast Drying, Soft and Adjustable Bathrobe for your Dog
Worried about your dog catching a cold after a bath or shower and not drying their coat in time? 
This bathrobe is super absorbent and can be used as a towel to dry your pet's fur and can also be used as a bathrobe, coat, or even a nightshirt for their warmth and comfort. 
Quick-drying moisture-absorbing when you are not able to blow-dry your dog immediately after their bath. 
You will save a lot of time and effort taking care of your dog after having a shower or after a rainy day walk. It also has a perfectly convenient magic tape design that makes it easily adjustable.
Super Absorbent
Made of soft, breathable polyester that absorbs water instantly this pet bathing suit will avoid having them catching cold or getting smelly.
Velcro Strap Design
The bathrobe comes with adjustable Velcro fasteners on the back so that you can open and close it easily. Very convenient design that offers a comfortable fit that best suits your fur friend.
Non-sticky and adjustable to your dog's size
Multi-purpose pet coverall, can be used as a dog bathrobe, pajamas, towel, or warm coat to keep warm while walking and running freely.
The collar can be turned up or down on your dog's neck which won't make your dog feel annoyed.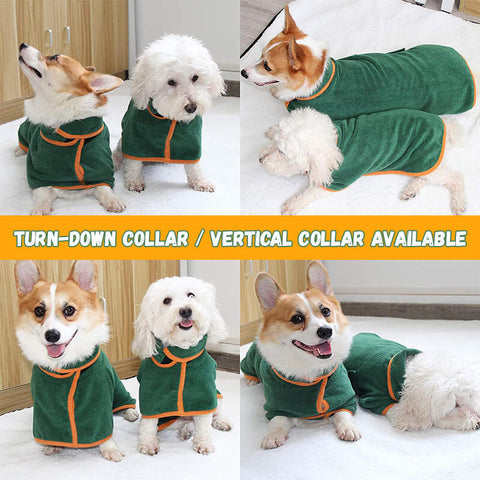 Easy To Clean
Made of skin-friendly and durable polyester, which can be washed in a washing machine or hand washed.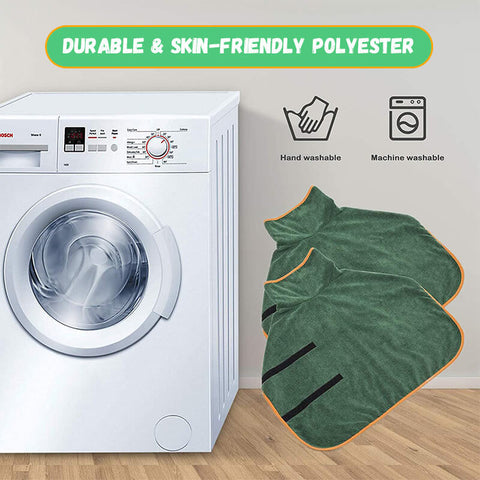 Different sizes for all breeds